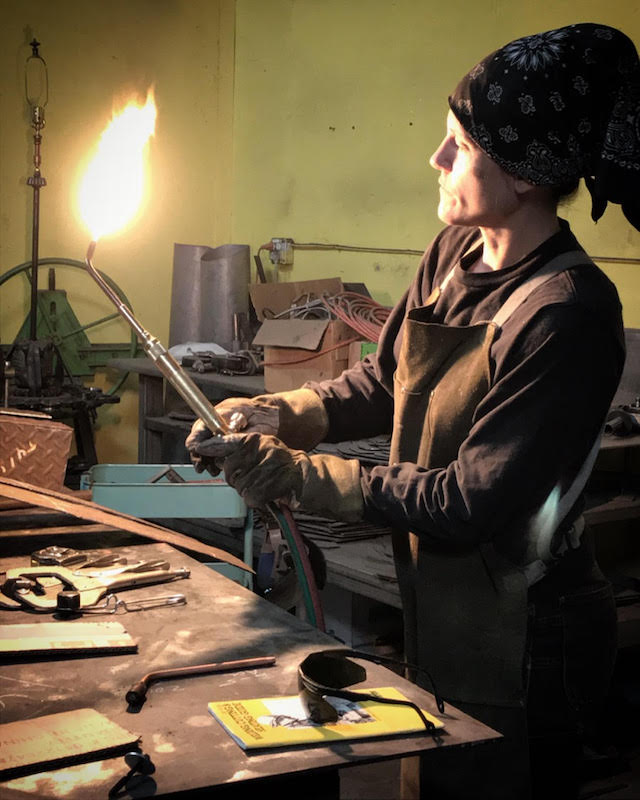 http://www.indiometalarts.com/
My name is Shelly Durica-Laiche of Indio Metal Arts. I'm a welder that designs and builds both decorative and functional steel objects. I have a double major from Portland State University in Sculpture and Graphic Design. I fell in love with steel when I took my first welding class there in 2003. After graduation I went to the Oregon Zoo where I sculpted naturalistic elements and animal habitats, then to Laika where I built tiny landscape bits for the stop motion film ParaNorman.
I created Indio Metal Arts in 2012. I design and build steel free standing sculpture, furniture, architectural elements and trellises. Now I work full time in the studio, preparing for art festivals, gallery shows and commissions. You may have seen me at the Lake Oswego Festival of the Arts, Salem Art Fair & Festival, Association of Landscape Designers Tour, Portland Open Studios, Gathering of the Guilds, Local 14, or Cracked Pots.
I use as much salvaged material as possible in my work. I collect it from steel yards around the state, from the side of the road, through my travels or by donation. Scrap metal has an imbedded history and character that folds into each design. I'm inspired by the unique shapes of these found treasures. Sometimes I know right away what I want to build but sometimes it takes years. I'm driven by the design challenge of transforming known objects into ones with a new voice. The assemblages become one of a kind sculptures that can't be duplicated. I seek for the viewer to be surprised by how a material is used in an unconventional way, far removed its past life. It's magic to me.